Bios and synopsis of new and retro characters and more for Season 3:
Donna Biscoe as Hanna Jones. (62)  As for Hanna's characer she would turn out to be a juicy type character for the entire show is concern. Also due to the original Stab series and including the original Woodsborro massacre of 1997  back at the Windsor College due to the documentary that Gale Weathers originally has done and then George Reed has done a documentary in 2017 . But the thing is she isn't well known. Of course she isn't well known in Scream 2 of course because we had never heard of Hanna of course. Well to put it like this.  You could figure out why Scream 2 is being mentioned and plus the 1997 massacre that had happened at the Windsor College is being mentioned and does the last name "Jones" sound fimliar doesn't ? Well of course. Hanna Jones is the mother of Joel Jones. Yes ! She is the mother of the man that was Gale Weather's former camera man back at the Windsor College. Plus due to Joel being the father of the sole survivor Michael Burset. Hanna is basically the grandmother of Michael Burset. 
Brad James as Sheriff  Treavon Jeter 
(30) Treavon is now the new sheriff of Woodsborro. Treavon is a trained sheriff and has now taken over and replace the former sheriff of Woodsborro's sheriff Denise Williams. After the fact that Denise was being killed from the previous massacre in the Windsor College. Treavon is now the new sheriff of Woodsborro.  (He is now the the new Dewey / Denise sort of speak.) As for Michael being the sole surirvor Michael Burset is no longer a stranger due to both of the previous massacres from in High School and in the Windsor College. Now the Michael's life as been hit head line, everyone and of course sheriff Treavon knows Michael. He tries his best to keep Michael safe. Later on it turns out that Michael and Treavon would develop a nice friendship which later on Treavon would actually say to Michael "Hey man, you can call me Trey. Trey is short for Treavon. So that's fine." Which him and Michael would have a nice friendship later on. But basically the question is would Treavon survive the massacre long enough to have a nice bond with Michael?    That depends.
Mo'Nique as Arleane Knight. (51) Alreane is Joel Jones sister. Which basically means that Aleane is Michael's aunt. As for Arleane she is a loving and a caring girl and she is a sweet as a button kind of like a flower girl, if you will. She gives you the shirt off your back. But something about her isn't on the up and up. There is something between Joel and her is just isn't right far as what they might be doing. Arleane would also get mad is somebody makes her get mad. But far as that goes she is a sweet young lady that is concerned about Michael's life. Especially when every starts going downhill as the bodycount starts rising up and there is a masked serial killer on the loose that is not only after Michael but her as well. She loves Michael dearly but she has so much and many personal problems besides going through the murders.
Mel Jackson as Gregory Knight. (49) Gregory Knight is Arlean's husband. There's nothing personal with him. He's just a husband to Arleane and a father to both of their daughter Brielle.   
Amanda Stenberg as Brielle Knight. (28) Brielle is the daughter of both Greogory and Arleane Knight. She is basically the cousin to Michael Burset. She is an upbeat type girl and is a go getter and not a lazy person. She's kind of a judgment type of person but not so much. But she remains less fiesty when the bloodshed started. Because of the fact she is afraid because of the fact that there is a masked killer on the loose.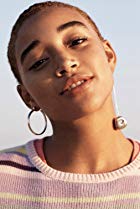 Cory Hardrict as Troy Jones. (37)  Troy is Michael's half brother. As you can see he does look like Joel a little bit. Of course. because Troy is Joel's son just as well. He is basically a long lost half brother that Michael know but doesn't have too much of a relationship with Troy. Troy and Michael aren't too close as Michael and Leslie is. But Leslie wants and tries to have Michael and Troy to get together because Leslie figures that life is too short and Michael should know his brother. Michael is willing to know and to connect with his half brother but as for Michael's inside feelings on the otherhand, Michael really just doesn't want to be bothered.  
LisaRaye McCoy as Dorris Jones. (48)  Dorris is the mother of both Leslie and Troy Jones. She doesn't  Michael too much until when Leslie explain to her about Michael's backround. She gives Michael love as well. She would say nice and sweet stuff like "Hey Michael. Now you have to mom's. Me and your sister. Magrot doesn't have anything to worry about." Michael would have a smirk on his face knowing that he felted love from Dorris too. But the thing is far as Dorris being a nice friendly somewhat mother to Michael. Could she be the next mother to die next? It's a possiblity.
Dan Martin as Reverend Eugene Hassell. (52)  Eugene is a reverend. A  long friend of the family and also the neighbor of both Leslie Jones and Michael Burset. He's willing to help the family just only if anybody ask for help.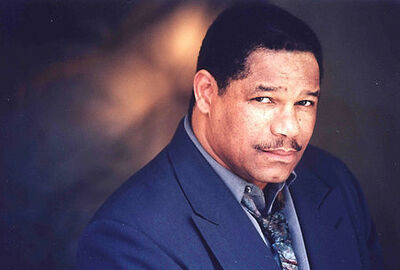 Tichia Arnold as Tammy Hassell. (50)  Tammy is the wife of Reverend Eugene Hassell.

Julie Birke as Amy Jackson. (29) Amy may not be known from Season 2 of Psychotic but as for Amy she is a friend and classmate from College. Before Michael graduated from Windsor College, She was a freshmen when Michael was a senior at College. After that her and Michael stayed in touch. Amy has now graduated from College too and she is also the target of the killer as well.

Glen Benton as (The Voice) The AlienFace killer.    As you can see, AlienFace is the new killer as for the Woodsborro's universe. As for the AlienFace killer he does the exact same thing as Ghostface does. Speaking of Ghostface. AlienFace is the partner and Ghostface's accomplice. Yes that's right !  Ghostface now has a partner this time. Picking and targeting on Michael. As for AlienFace's voice. His voice is described as the sound as the Jigsaw killer from the Saw movies but to make it even more scarier. His voice sounds like the sound of a vocalist growling from a death metal band which makes the AlienFace killer almost as creepy as Ghostface. In fact this new killer is enough to make  Michael never forget the mask of this killer. Actually Michael is terrorified of AlienFace more so than Ghostface.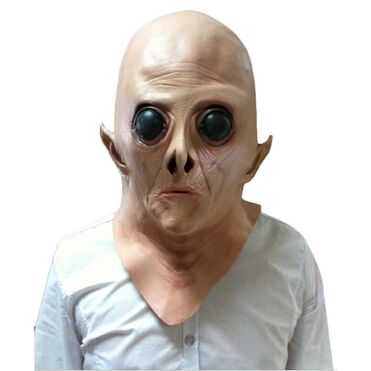 Actor Glen Benton the voice of AlienFace killer.
                         The synopsis of Retro Characters:
Duane Martin as Joel Jones . (53)  Yes Joel Jones !  The guy that was Gale Weather former TV reporter of Woodsborro and was Gale Weather's  former camera man back in Windsor College. The man that is afraid to get killed just like Kenny Jones is here. But far as tht goes. There are things that has been happening between the events between Scream 3 and 4. This shows what has Joel has been up to after the latest Scream movies. As you can see, after the events of Scream 4. Sidney, Dewey and Gale were the original Woodsborro survivors. Luckily Sidney found 2 houses for the 3 of them in Massachuetts and the 3 of them ar now licing in peace. But after Scream 2. What about Joel?  Well one thing is confirmed that Joel Jones is the biological father of Michael Burset. Yes.  Michael Burset the guy that is the next gereration sole survivor of Woodsborro is the biological son of Michael Burset. As for Leslie and Troy, They have a different mother as you can see. One thing that is different of course. Michael's mother is dead. But Troy and Leslie's mother is still alive. Far as Michael is conern. He is willing to know his father. But on the otherhand the things that Joel has done besides being a dead beat father, Joel has done something that is pretty much bad. Not too extreme but it is bad though.
Jay Philips as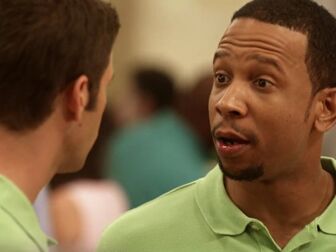 Jay Williams. As for Jay. Remember Magrot's boyfriend? Well actually Jay really wasn't Magrot's boyfriend. As for Michael's mother she was a very busy woman and she needed someone to watch Michael for her. Now take a guess at this. Jay said "Magrot he's my family member. He is the son of my brother. He's like my child. Of course I could watch him." That was before he had a bad temper and killed Michael's mother. Then remembered what happened to Michael in Psychotic 2? Well as for Michael there is just one more thing Michael doesn't know about Jay before he was arrested and killed in prison by an inmate. There was just 1 secret that Michael doesn't know about. But Joel does. That is before Joel could possibly survive this massacre. Joel wants to tell Michael something about Jay Williams. The guy that basically molest him as a child is a family member.  But why is his last name is Williams instead of Jones? Does that mean Jay could be Joel's cousin?
Bianca Lawson as Leslie Jones. (48) 
Yes, the badass girl is back ! The beloved stepsister that proects and finishes raising Michael and the one that Michael loves dearly is back ! As for Leslie she tries to train Michael in case if something happens to her she trans him on how to survive and how to take care of himself in the meantime. Leslie tries to straighten up Michael's life for his future but the thing is. Will she be around long enough before the masked killer gets her? Will she survive this time like she did from Season 1? That depends.
Larenz Tate as George Reed. (37) As for the man that stands in front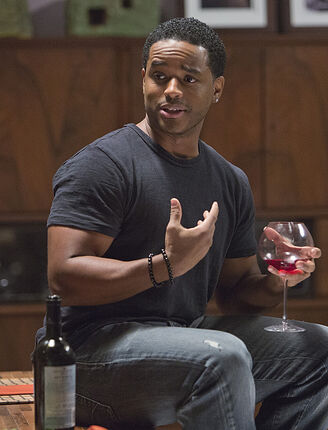 of the camera holding his microphone is back as well. Well of course he was in Season 2. But just to confirm it. Besides Michael being the only survivor of the Windsor College. George and Michael has a close friend more than ever after the events of Psychotic 2. Like as you've seen that at the end George and Michael told each other that they love each other. It's now 5 years later after the events of Pcychotic 2 and George is still a reporter and still living his life. But the question is. Will he survive once again. Or another one of Michael's loved ones bites the dust? 
                                                      Maestro Harrell aka Michael Burset's new look: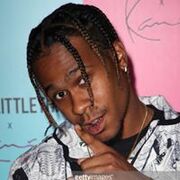 Marlon Kazadi as the child Michael Burset:
                                                        Antony Azor as the baby Michael Burset: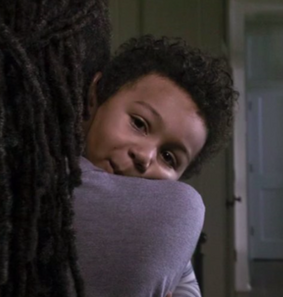 Based off Kevin Williamsons characters
                                                                   Created characters by Kenneth Tanner
                                                                   Synopsis and updates on Psychotic 3.
                                                                   Psychotic 3 will be debut in 2019.