A list of different notes and Trivia's about the Scream Franchise's movies and actors which also includes photographs explaining the different notes.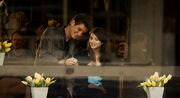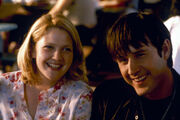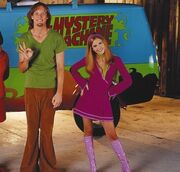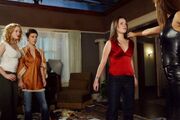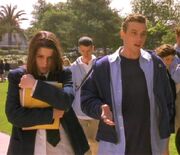 Scream was originally going to be called Scary Movie however, because of the variation of comedy, it was renamed to Scream to better fit the content.
Matthew Lillard from Scream and Sarah Michelle Gellar from Scream 2 were in Scooby-Doo together.
Jada Pinkett Smith, Neve Campbell, Erik Knudsen and Hayden Panettiere who star in Scream were in the animated version of Scooby-Doo.
Emma Roberts, Rory Culkin and Nico Tortorella all starred together in the movie "Twelve"
Drew Barrymore and David Arquette were in Never Been Kissed together.
In Stab, David Schwimmer played Dewey Riley. This is a reference to the fact that he stars with Courteney Cox on Friends.
Naming Sarah Michelle Gellar's room mate on Scream 2, "Dawnie" is a reference to her own show, Buffy The Vampire Slayer where her sister is named Dawn.
Neve Campbell who plays Sidney Prescott and Matthew Lillard who plays Stu Macher dated.
Jada Pinkett-Smith produced a show called All Of Us in wich Elise Neal co-starred.
Courteney Cox and David Arquette also worked together on Friends.
W. Earl Brown played a part on the TV show, Charmed in which Rose McGowan who played Tatum Riley in the first installment, played Paige Matthews on it. This movie was also possibly an inspiration for the first scene in the pilot, in which a girl is killed by her boyfriend.
Rose McGowan was forced to dye her hair blonde for the role of Tatum in order to look different then Neve Campbell, seeing that at the time they both had black hair.
Nico Tortorella who played Trevor Sheldon was originally meant to play Ghostface. For his audition at the time, he reenacted a scene from Scream where Billy Loomis reavels to Sidney Prescott that he is the killer at the time. However, in Scream 4, Emma Roberts was Ghostface.
Shannen Doherty and Charisma Carpenter tried out for the role of Sarah Darling but it eventually went to Jenny McCarthy. Ironically, Shannen was on Charmed also, however she left the series before Jenny played her part three season's later. Charisma also had a small recurring part on Charmed with Rose McGowan and was a main character on Buffy, with Sarah Michelle Gellar.
Marisol Nichols who plays Dawnie in Scream 2 was in Friends with

Courteney Cox and Charmed also with Rose McGowan.
Neve Campbell and Skeet Ulrich played opposite each other in "The Craft"
Rutina Wesley singed on for Scream 4 before dropping out. Anna Paquin played a role in Scream 4 and both women co-star the show Trueblood.
Neve Campbell had a recurring role on Medium, in which David Arquette's sister, Patrica is the main star in.
Anna Pacquin and Adam Brody were in The Movie The Romantics
Lucy Hale and Adam Brody worked together in The OC

Aimee Teegarden, Allison Brie and Nancy O Dell were all in Hannah Montana.
Both Rebecca Gayheart and Elise Neal were in the film Urban Legend.
Adam Brody is in Jennifer's Body and Anthony Anderson is in Transformers. Megan Fox is the actress in both movies.
Skeet Ulrich and Jamie Kennedy worked together in As Good as it Gets.
In all of the Scream Movies, a stuntman is usually used for the role as Ghostface except for parts when they reveal themselves. However, in Scream when Randy Meeks is watching TV and Ghostface appears behind him, that was actually Skeet Ulrich. He specifically asked if he could wear the mask for at least one scene.
Emma Roberts and Rory Culkin starred together on Lymelife which makes it the third successful movie they have been together in.Emma's character seduces Rory in that movie. So that could have been what happened between Jill and Charlie.
Anthony Anderson often stars in the Scary Movie franchise, which is what Scream was meant to be called.
Emma Roberts died her hair brown for the role of Jill Roberts in order to look more mysteriously than her being blonde. This last happened in Scream where Rose McGowan had to dye her blonde in order to differ her appearance to Neve Campbell.
Kevin Williamson and Julie Plec who are the screenwriters and producers of Scream are currently working on the TV show The Vampire Diaries.
Patrick Dempsey and Emma Roberts worked together in Valentine's Day
Emma Roberts worked with Taylor Lautner in Valentine's Day. Taylor Lautner is in Twilight Saga with Ashley Greene the original actress to portray Jill Roberts
Rebecca Gayheart was the original actress to portray Tatum Riley but the role went Rose McGowan. Rebecca Gayheart played sorority sister Lois in Scream 2. However, Rose and Rebecca starred together on "Jawbreaker"
David Arquette is the producer of Courteney Cox's tv show Cougar Town.
Hayden Panettiere, Skeet Ulrich, Matthew Lillard and Sarah Michelle Gellar worked together on the American animated tv series Robot Chicken.
Heather Matarazzo and Laurie Metcalf starred together on Roseanne.
Sidney jokingly adds that Tori Spelling would play her in a movie and in Scream 2, Tori Spelling does indeed play her in Stab.
Kirby mentions the movie Piranha and A nightmare on Elm Street. Wes Craven created The Nightmare on Elm Street franchise, Scream 2 actor, Jerry O'Connell is in the movie Piranha along with Steven R. McQueen who stars in The Vampire Diaries which was created by Scream writer, Kevin Williamson.
Rose McGowan who protrayed Tatum Riley in the first movie, starred on an episode with Jenny McCarthy who plays Sarah Darling in the second movie on Charmed.
Eric Knudsen plays Crash in Scott Pilgrim vs. The World with Kieran Culkin who is the brother of Rory Culkin.
The Characters Jennifer Jolie and Angelina Tyler are Named after Angelina Jolie.
Tom Prinze is Named after Freddie Prinze Jr the Husband of Scream 2 Star Sarah Michelle Gellar.
Drew Barrymore and Kristen Bell are working together in the Movie Everybody Loves Whales.
Sarah Michelle Gellar and Rebecca Gayheart Worked Together in the Movie Harvard Man.
To keep Drew Barrymore crying and looking scared, Wes Craven kept telling her real life stories about animal cruelty. She is a keen animal lover in real life.
David Arquette and Rose McGowan starred together in the american comedy Ready to Rumble.
Everyone who has ever uttered the phrase "I'll be right back" has died. This obeys the "rules".
Each film employs a red herring. In Scream, it is Neil Prescott. In Scream 2, it is Derek or Cotton. In Scream 3 it is Angelina Tyler or John Milton. In Scream 4, it is Judy Hicks. 
In each film, a killer comes back to life for "one last scare".
The only cast member to actually converse with Roger L. Jackson was Sarah Michelle Gellar.
Courtney Cox and Parker Posey actually had a falling out during filming. This only adds to their movie rivalry.
Only four actors have ever worn the Ghostface costume. They are Skeet Ulrich, Neve Campbell, Timothy Olyphant, Scott Foley and Emma Roberts. Ghostface is usually portrayed by stuntmen Dane Farwell or Brian Avery.
If you look at Stu in the scene where everyone is watching Halloween and some guys are talking about Jamie Lee's breasts, Stu starts looking down the shirt of the girl in front of him.
Matthew Lillard ad-libbed several of his most famous lines.
Feeling bad about the line "With my luck they'd cast Tori Spelling", Neve Campbell sent Tori Spelling flowers and an apologetic card.
The scene where Billy sneaks into Sidney's room is almost identical to the scene where Glen sneaks into Nancy's room in A Nightmare on Elm Street.
In the beginning of Scream when Casey's parents come and hear her choking on the phone, Casey's dad says "Listen, I want you to drive to the MacKenzie's house and call the police." At the end of the movie Halloween, Laurie Strode tells the two little kids she's babysitting to walk over to the MacKenzie's house to call the police.
When Sidney is going into school, and TV reporters are chasing her, look closely at an auburn haired reporter she says "People want to know, they have a right to know." That woman is actually Linda Blair, who played the daughter Reagan in the Exorcist.
The killer's costume in the Scream movies has come to be known as "Ghostface". When the costume's package is first shown to the Police Chief by Dewey, it is actually called "Father Death". The only time "Ghostface" is actually mentioned is by Tatum right before she dies, when she calls him "Mr. Ghostface".
Naming the costume "Father Death" was a red herring clue to the possibility that Sidney's father, Niel, was the real killer.
Billy is named after Sam Loomis, the main protagonist of Halloween.
Mrs. Loomis is essentially Mrs. Voorhees. She shares identical motives with her.
Community content is available under
CC-BY-SA
unless otherwise noted.