Tommy "TJ" Jenkins was a recurring character in the third season of the television series, Scream. He was portrayed by Nash Grier.
History
As a boy, Tommy Jenkins was a football player known to bully other children, particularly
Marcus Elliot
. He did this because he was resentful that Marcus's brother
Deion
was better on the field than him. On Halloween night 2010, Tommy bullied Marcus, pushing him to the ground, taking his Halloween Candy and throwing it over the fence into a salvage yard. He then terrified Marcus with a story about
Hook Man
who supposedly kills children before leaving Marcus alone. Tommy would inadvertently be the cause of Marcus's disappearance after he and Deion went into the yard to get the candy and only Deion returned.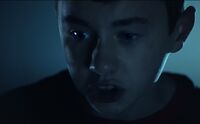 Years later Tommy, now going by "TJ" is working as some kind of Uber driver when he is contacted to pick up a client called "Marcus". Not realising a connection between his victim from the past, he arrives in a dilapidated neighbourhood and goes searching for his client but is creeped out by the abandoned house and gets back in his car, only to be confronted be Ghostface
Appearances (2/6) 
Season 3 (2/6)
Death
TJ is stabbed in the neck by Ghostface/Jamal before having his head covered with a plastic bag which quickly fills up with his own blood.
Quotes 
"Your costume sucks, now give me your candy you loser"
—Tommy Jenkins
Trivia
In a promotional teaser, TJ is called "The Inquisitive One".
He is the first victim of Ghostface this season.
He is the first character in the entire franchise to be seen as a child before being killed as a teenager.
Community content is available under
CC-BY-SA
unless otherwise noted.