We're Getting Mutants in the MCU - The Loop
Play Sound
"Ha. Tom Prinze, watch your show all the time. You're so right. Pop Culture is the politics of the 21st Century. (...) And that story you did on me, last month, crashing my car, wow, was that ever powerful journalism. I especially liked how you implied that it was caused by drinking and drugs and that the whole tire blowout was faked. That was great."
—Tom confronts Gale Weathers over her tabloid journalist lies
Tom Prinze was a main character in Scream 3 (2000 film). He was an actor cast as Dewey Riley in the cancelled Stab 3: Return to Woodsboro (2000). He was the fifth person to fall victim to the third Ghostface killing spree.
Biography
Hollywood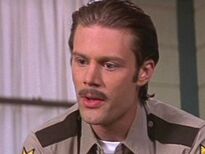 Tom Prinze portrays Dewey in the cancelled third Stab installment, replacing David Schwimmer.
He speculates Sidney Prescott is Cotton Weary's killer, and jokes of her reclusion. Later, he expresses skepticism over Angelina Tyler's innocent, innocuous act. The film is cancelled after the death of their other co-star, 35-year-old, Sarah Darling.
The wrap party occurs at Jennifer Jolie's house, following the film's cancellation. Tom is drunk, grieving Sarah's loss, as well as showing general frustration with the events that have occurred.
After witnessing Steven Stone's death, Dewey ordered everyone back inside, where Ghostface repeatedly calls his victims, toying with them, as he presents them parts of a screenplay he haswritten himself, by sending them via fax machine.
The screenplay would ultimately tell which one of them would be granted mercy. When Ghostface cuts the power to the house, Dewey sends everyone out back near the pool, fearing the killer would enter Jennifer's house.
Prinze, who was anxious to know who would survive the ordeal, ran back inside, and went to read the final fax. As the final fax came through, he read it out loud: And the killer will give mercy to whoever...
Death
As Gale, Dewey, and Jennifer stood outside, Prinze exclaims he can't read anything, ran to another room, and uses his lighter to see the paper. Then he continued to read: Whoever smells the gas....' As he read the final word, a massive flame engulfs him, filling the entire room with fire, and a huge explosion ensued, resulting in the destruction of Jennifer's home.
Ghostface had opened a gas leak and filled the entire house with gas. Later, Angelina appears affected by his death.
Quotes
The following are quotes from Tom Prinze:
"Not meant to be? You win that new talent search for the new Sidney. 50,000 girls and they pick you? You gotta be praying that this movie keeps going."
"Oh, cue the violins, right."
"Hey, what if the killer is Sidney Prescott? I mean, whatever happened to her? She's probably off living in the woods, like the fuckin' unabomber, man."
"I'm coping."
Trivia
He was described as "a Hollywood poster boy. Very cool. Not so debonair" in the script.
Late Fast and Furious actor Paul Walker was considered for the role.
Josh Hartnett, James Van Der Beek, and Johnathon L. Jackson were also considered.
The original script included a scene in which Tom asks Angelina out, is turned down, and then tries the same thing with Tyson, who also turns him down. It's unknown if this was even filmed, or simply cut for time since Angelina not being single was only important in the original intended ending. On the DVD commentary, Wes Craven comments about cutting this scene, but only mentions Tom asking Angelina out, so it is probable that some version was filmed, which may or may not include Tom's bisexuality.

It would make sense that Angelina rejected his advances; if the going theory that she's the second Ghostface and Roman's lover/accomplice, she would have been the one responsible for turning on the gas stove that ultimately killed Tom.

In the Japanese dub, he is voiced by Hikaru Midorikawa.
Allies
Gallery
Appearances
Character Guide