sidney dies gale dies dewey dies the killer is randy
No source of website? It's fake information. --LeonardoWyatt - (talk) - (contributions) 11:47, May 29, 2011 (UTC)
Scream 4 may be the end of the movie franchise.
it has been 4 years and still nothing. According to "bloody disgusting" there will be no more scream movies. scream 4 is said to have ended the movie franchise. The new tv series may have played a part in the franchies unfortunate ending. however, scream 4 was not supposed to happen either so there may still be hope for this legendary movie. the only difference between the 4th movie and the 5th movie would be the tv series happend after the 4th movie so as i said before that may have played a big role in them not doing a 5th movie. Also, the a fifth installment of the movie might not just be getting denied by wes craven. It could also be getting denied by the cast. the original cast are now in their 40s and 50s. Its reasonable why they might not want to do anymore films. The longer they wait to make a movie, the more older the cast gets and while i wouldnt really mind seeing them in a 5th movie although they are in there 40s and 50s, others might not like it and the movie might not be as popular. Also the longer they wait the more time passes by for people to stop caring so if they wait any longer to start production for a 5th movie, it might do very bad.
Siexoxo (talk) 07:05, July 10, 2015 (UTC)sie
Josh Patrick Dudley discusses ideas at the Scream 4 Premiere with Wes Craven on his own Scream 5 screenplay
Joshua Patrick Dudley the director of the Stab 4 and 5 amateur youtube fan films attended the Scream 4 premiere and there got into a conversation with the infamous series director and horror director Wes Craven concerning his ideas for a Scream 5 he would have written for him.
http://www.horrorsociety.com/2011/08/03/scream-5-scoop/
Amanda Young 08:23, October 2, 2011 (UTC)Amanda YoungAmanda Young 08:23, October 2, 2011 (UTC)
Good and Bad
I have Good news and bad news about Scream 5. The Good news is that Wes Craven officially said that Scream 5 is going to happen. The bad news will be shocking. Wes Craven had thought at first that since of the new Trilogy following Scream 4, Wes Craven thought of thinking of leting all 3 main characters should live again, but while there developing Scream 5, he thinks now that Sidney, Dewey, or Gale is going to have to die off in the 5th Movie. Wes Craven also said that 1 or more of the three Characters could die, meaning that even all of them could die. Who do you think should die off in Scream 5. Ddill 01:56, October 5, 2011 (UTC)
so this is what i have heard wes craven thinks that their will be a scream 5 because bob winsten wants to but he dose not know if he will be a part of it, he said that due to his contract he gets the first look at the script and if it's good he will do it. so right now were just waiting for kevil willmason to write it.97.121.166.29 23:56, October 18, 2011 (UTC)
That's IF Kevin Williamson is going to be the writer. We don't know if he is. SeleneGoddess89 23:59, October 18, 2011 (UTC)
Mr. Craven. Please pick this cast that me and my friend Edna made.
Georgie Henley as Hayley McDonald
Neve Campbell as Sidney Prescott
Emma Bell as Fifi Mone
David Arquette as Dewey Riley
Courteney Cox as Gale Weathers-Riley
Patrick Dempsey as Det. Mark Kincaid
Ashley Roberts as Sally Mone
Matthew Knight as Ethan Carsia
Hayden Panettiere as Kirby Reed
Amanda Righetti as Trixie Sango
Tiffany Thortan as Candace Knight
Chance Crawford as Lloyd McDonald
Mackenzie Foy as Brooke McDonald
Rutina Wesley as Marcie Perkins
Shia LaBeouf as Daniel Bowen
David Henrie as Jimmy Mone
Noah Cyrus as Brianna Albertson
Carlo Marks as Henry Coop
Abigail Breslin as Alice Nightingale
Ashley Greene as Sophie Taylor
Kristen Dunst as Ruby Higgies
Zachary Abel as Kirk Loner
Matt O'Leary as Richard Mosses
Lisa Wilcox as Det. Natalie Carmen
Billy West as Captian Joe Parker
Sharon Stone as Lizzy Mone
Elle Fanning as Missy Gibson
Maisie Smith as Young Hayley McDonald
Peyton R. List as Young Alice Nightingale
Sierra McCormick as Young Fifi Mone
Chloe Moretz as Young Sally Mone
Zachary Gordon as Young Jimmy Mone
Jessica Lucas as Tina Sheldon
Allison Janney as Tami Carsia
Ciara Bravo as Annie Carsia
Bobby Campo as Micheal Rover
Please pick my cast that we made. Please. And keep Sidney, Gale, and Dewey alive. Okay? 68.108.25.79 01:27, November 4, 2011 (UTC) Cameron is here
That's not gonna happen. Wes craven would not pick that many cast member's and kill off most of them including Kirby. Sidney Dewey or Gale have got to die as he pointed out. I believe Dewey would die because he could die a heroic death after helping Sidney defeat the killer. Also since Sidney would no longer be the heronie of the series i believe its time they passed the torch to Kirby, she could be the new lead character to carry on the series. Also we never actually saw her die in Scream 4 but it doesn't mean that she died off screen so we will never know if Kirby is alive and will be in Scream 5. MrRattlesnake101 14:46, November 4, 2011 (UTC)
Scream 5 will continue after Scream 4 and will be set in Woodsborro again. The main 3 will reprise their roles once again (which means it's not a cameo appearance, it's a full role).
They reveal this on this site: http://blog.moviefone.com/2009/11/04/scream-4-scream-5-kevin-williamson/
kevin stated that he won't be doing scream 5. wes may still be on boardScream,cowboysfan 17:53, March 4, 2012 (UTC)scream,cowboysfan
no 5 for kevin
kevin stated he will not be doing a 5th. Wes Craven may still do it Scream,cowboysfan 17:56, March 4, 2012 (UTC)screamfan
Kirby may be returning in Scream 5" says Wes Craven, "because her death was never officialized"
Scream 5

No information

No information
YourBoyJoshB Lands Lead In New Film Scream 5 2014
http://www.imdb.com/list/jB76cTDBmM8/

 1.Neve CampbellActress, ScreamBorn and raised in Canada by a Scottish father and Dutch mother, Neve Campbell first came to our TV screens in the hit Drama series Party of Five. Described as TV's most believable teenager, her first major film role came in the form of innocent victim "Sidney Prescott" in Scream, the film which re-defined the slasher genre..." Sidney Prescott " - LanceKleinWME [1]2.David ArquetteActor, Never Been KissedThe youngest of five, David Arquette was born in Virginia and is part of the illustrious Arquette family whose work has spread over many generations. Like siblings Rosanna Arquette, Patricia Arquette, Richmond Arquette and Alexis Arquette, David started working at an early age and his first major role came..." Dewey Riley " - LanceKleinWME [2]3.Courteney CoxActress, The One Where Monica Gets a RoommateCourteney Cox was born on June 15th, 1964 into an affluent Southern family. Her father Richard L Cox (1930-2001) was a business man married to her mother Courteney. She was the baby of the family with two older sisters (Virginia and Dottie) and an older brother, Richard Jr. She was raised in an exclusive society town..." Gale Weathers-Riley " - LanceKleinWME [3]4.Dane FarwellStunts, Forrest GumpDane Farwell is an American stuntman and actor. Born Dana Farwell Smith, he graduated from Coldwater High School (Michigan). After high school, Smith worked for his father Sumner as an optician and received training at Ferris State College. Shortly after, a Saturday morning program on stunts would change his life and shape his career..." Ghostface " - LanceKleinWME [4]5.Marley SheltonActress, Planet TerrorMarley grew up in Eagle Rock, California. Her mother, Carol, was a teacher and former singer and her father, Christopher Shelton, worked as a director and producer. She has three sisters: Koren, Erin and Samantha Shelton. Both of her parents were involved in local theater projects, but as a teen, Marley was never interested in life on the stage..." Deputy Judy Hicks " - LanceKleinWME [5]6.Emma WatsonActress, Harry Potter and the Deathly Hallows: Part 1Emma Charlotte Duerre Watson was born in Paris, France to parents, Jacqueline Luesby and Chris Watson. When Emma was five her parents divorced, and she then moved to Oxfordshire, England with her mother and younger brother, Alexander. Since the divorce, Emma's extended family has grown as her parents both have new partners..." New Lead " - LanceKleinWME [6]7.Amanda SeyfriedActress, In TimeAmanda Seyfried grew up in Allentown, Pennsylvania, and began modeling when she was 11-years-old. She acted in high school productions as well as taking singing lessons, and landed a recurring role in the long-running US soap, As the World Turns, when she was just age 15. More soap work followed as she..." New Lead " - [7]8.YourBoyJoshBActor, Why Not to Cheat on Your Best FriendOriginally from Oahu, Hawaii, Josh B was raised in Orange County singing in his church choir and his school's vocal ensemble before performing with Broadway on Tour in "Guys and Dolls" and "Oklahoma." As a young man, Josh also took part in national commercials for Addidas, Nokia, Sony and American Eagle..." New Lead " - [8]9.Andrew GarfieldActor, The Amazing Spider-ManAndrew Garfield was born in Los Angeles, to an American father, Richard, and a British mother, Lynn. When he was age 3, he moved to Surrey, U.K., with his parents and older brother. He went to a private school, the City of London Freemen's School. Andrew began acting in youth theatre productions while he was still at school. At age 19, he went to the Central School of Speech and Drama..." New Lead " - LanceKleinWME 
Recently in an interview with Wes Craven, he said there will be a possible scream 5. Degrassieclarex3 (talk) 23:43, March 31, 2013 (UTC)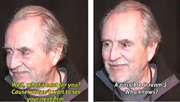 The New Generations: Woodsboro (2016)
File:Images.jpg
Directed by
–
Produced by
–
Written by
–
Starring
–
Music by
–
Distributed by
–
Release date(s)
–
Running time
–
Language
–
Budget
–
Gross revenue
–
Preceded by
–
Followed by
–
Scream 5 Good News
Speaking at the Zurich International Film Festival, producer Harvey Weinstein said he wants the fifth "Scream" entry to wrap the series. Weinstein would like his brother, Bob, who produced all four previous "Scream" releases, to direct the sequel.
"Everyone lived in 'Scream 4,'" Harvey Weinstein said, via MovieWeb. "I'm begging him to do the movie and just end it. We've milked that cow."
Source: http://www.huffingtonpost.com/2013/10/03/scream-5_n_4036082.html
PLLandIGfan (talk) 01:42, October 27, 2013 (UTC)
Please add Scream 5 in summer 2015!!!
The film should be on cinemas April 6, 2015 and I prepare for the cast:
Scream 5 (2015)
Directed by
Wes Craven
Produced by
–
Written by
–
Starring
Neve Campbell
Music by
–
Distributed by
–
Release date(s)
–
Running time
–
Language
–
Budget
–
Gross revenue
–
Preceded by
–
Followed by
–
Neve Campbell as Sidney Prescott
David Arquette as Dewey Riley
Courteney Cox as Gale Weathers
Marley Shelton as Judy Hicks
Justin Long as Garrett Roberts
Bailee Madison as Riley Roberts
Amanda Seyfried as Alice Mone
Kevin Connolly as Brad Walters
Emma Bell as Fifi Mone/ Jenny Morrow (Stab 8)
Keegan Conor Tracy as Kat Peters
Anne Hathaway as Tori Walters
Tiya Sicrar as Mindy (Stab 8)
Miles Fisher as Alex Tate
Busy Phillips as Anna Tate
Delsakrista (talk) 15:13, August 20, 2014 (UTC)Delsakrista
PLEASE PLEASE PLEASE keep sidney ALIVE please my name is melissa  she is the toughtest women she the reason why i started to love scream movies please wes craven keep sidney alive in scream 5...