Cobra Kai Season 4 - The Loop
Play Sound
Stab 3: Hollywood Horror


Stab 3: Hollywood Horror poster
"The True Hollywood Story"
Directed by
Fred Rifkin
Produced by
Dixie J. Capp
Written by
Will Kennison
Starring

Tori Spelling
David Schwimmer
Elizabeth Banks
Rutger Hauer
Balthazar Getty
Joey Garfield
Charlize Theron
Will Smith
Michael Neithardt
Jennifer Aniston
Angela Bettis

Music by
Marco Beltrami
Distributed by
Sunrise Studios
Release date(s)
2001
Running time
116 Minutes
Language
English
Budget
$40 million
Gross revenue
$161,834,276
Preceded by
Stab 2
Followed by
Stab 4
Stab 3: Hollywood Horror is the third installment in the fictional Stab film series. This film was released in the Scream universe after production was scrapped on Stab 3: Return to Woodsboro and serves as an in-universe retelling of the events of Scream 3. Based upon Gale Weathers best seller, Hollywood Horror.
Stab 3 also haven't had the chance to show up in the saga.
Plot
Sidney Prescott (Tori Spelling), traumatized by the brutal murders of almost all of her closest friends, has left her hometown of Woodsboro and is working as a crisis intervention counselor, via the phone from the safe seclusion of her home in an unknown area of Northern California. Meanwhile in Los Angeles, a horror movie based on her life is being filmed and a lunatic has gotten his hands on a copy of the script and is murdering the cast members in the same order that their characters are murdered in the movie. But predicting who will die next is not as simple as it might seem since the producers have circulated three different screenplays, with three different endings. The third installment also brings back fan-favorite Dewey Riley (David Schwimmer), who is now working for the Sunrise Studio production, a special cameo from long lost friend Randy (Joey Garfield) and an actress who gives Gale Weathers (now played by Elizabeth Banks) a run for her money. The film ends with Dewey proposing to Gale to marry him and she accepts. This film is based on "actual" events now chronicled in a novel of the same title.
Trivia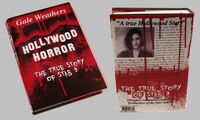 This movie is based on the book Hollywood Horror by Gale Weathers.
As the actors and actresses from the original third film were murdered in Scream 3, an all-new cast was needed for this installment.
The movie cover of Stab 3: Hollywood Horror can be seen at the Cinema Club in Scream 4.
The cast of the first two Stab movies return to their respective roles (despite not wanting to be in the original Stab 3: Return to Woodsboro) perhaps due to fan-fare generated as a result of the "Sunrise Studios Massacre".
The film is dedicated "In Loving Memory" of producer John Milton and actors Tom Prinze, Cotton Weary, Tyson Fox, Angelina Tyler, Jennifer Jolie, and Sarah Darling, who were all victims of Roman Bridger's murder spree during filming of the original third movie in the series. The memoriam excludes Bridger, that film's director, as well as additional victims Christine Hamilton and Steven Stone, respectively Weary's girlfriend and Jolie's bodyguard, who were not film personnel.