Someone has taken their love of horror movies too far
Scream is a five-film series of slasher films, along with some associated projects in television and other media. The latest installment, Scream, was released on January 14, 2022 with franchise legacies Neve Campbell, Courteney Cox and David Arquette, reprising their roles.
A year after the murder of her mother, a teenage girl is terrorized by a new killer, who targets the girl and her friends by using horror films as part of a deadly game. The killer continues to follow Sidney for 15 years. Twenty-five years after her initial encounter, a new killer has donned the Ghostface mask and begins targeting a group of teenagers to resurrect secrets from the town's deadly past.
Scream stars Neve Campbell, Courteney Cox and David Arquette as franchise legacy characters Sidney Prescott, Gale Weathers and Dewey Riley, as well as being home to other iconic stars like Skeet Ulrich, Matthew Lillard, Drew Barrymore, Marley Shelton, Timothy Olyphant, Laurie Metcalf, Liev Schreiber, Scott Foley, Emma Roberts, Hayden Panettiere, Rose McGowan, Jamie Kennedy, Melissa Barrera, Jenna Ortega, Dylan Minnette and Jack Quaid over a rich history of twenty-five years.
This wiki will guide you through the franchise -- as well as other associated projects like Scream: The TV Series and Ghostface in the video game Dead by Daylight.
YOU'LL NEVER SEE IT COMING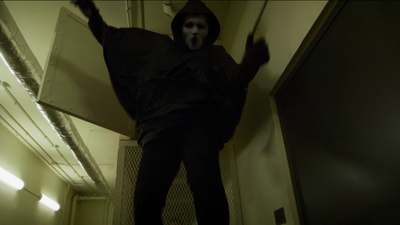 Scream was a three-season TV series that initially released in 2015. The final season was released in 2019 and featured the return of Ghostface who was missing from the first two seasons.
Instigated by a cyberbullying incident that goes viral, a brutal murder in Lakewood stirs memories of a crime spree from the town's past that has haunted some, intrigued others and maybe just spawned a new executioner. At the center of the story is a group of teenagers -- with two old friends struggling to reconnect at its heart -- who, says the network, "become lovers, enemies, suspects, targets and victims of a killer who's out for blood."
Scream: The TV Series stars Willa Fitzgerald, Bex Taylor-Klaus, Carlson Young, John Karna, Amadeus Serafini and Santiago Segura.
About Us
We are a community database about the Scream franchise, created by fans, for fans. We are dedicated to building a comprehensive and informative resource about all things related to all facets of Scream.
We also have a place for getting to know each other and to talk about Scream in our Discussions. Whether you are here to start editing or to chat with fellow users, you are welcome to sign up for an account!