Doctor Strange in The Multiverse o Madness - The Loop
Play Sound
Roman: "Fuck you!"
Sidney: "Fuck you!"
— Sidney and Roman right before their fight in John Milton's manor.

Roman Bridger is the main antagonist of Scream 3 (2000 film), and the fifth revealed Ghostface killer overall. He is a 29-year-old music video director who landed the job of a fictional trilogy-concluding film, Stab 3: Return to Woodsboro based on the true events of the 1996 Woodsboro and 1998 Windsor College Murders.
It is revealed all along he was Maureen Prescott's birth son, a product of rape from her brief stint as an actress from 1969 to 1971. He was jealous of Sidney Prescott's rise to fame, which he saw as a failure to his plan against Maureen for rejecting her 4 years prior. Following the copycat killing spree, and Cotton's self-sabotaged image as a hero of the copycat killings, Sidney's elusive star power remained.
After he revealed himself as the architect behind Billy's plan to kill Maureen Prescott, he fought Sidney to the death and lost. He was then killed by Dewey Riley.
The events of his killing spree were later depicted in a reproduced third Stab film, Stab 3: Hollywood Horror (seen in Scream 4) based on the book Hollywood Horror by Gale Weathers, which was a true story (according to Jenny). It is unknown who portrayed him in the role, though we learn from Richie that he has an accomplice in the movie.
Biography
Early life
Origins
Roman was born in February 1970, the illegitimate son of Maureen Prescott, who was serial raped at a party hosted by John Milton. He was adopted shortly after his birth. The next several decades, he searched for his birth mother, who he believed to be a former unknown Hollywood actress going by the stage name of Rina Reynolds.
During his research, he finds out that his mother was a victim of a rape at John Milton's mansion, from which she never fully recovered from and eventually led her to a secretly promiscuous lifestyle. He found her in late 1995 (four years before the events of Scream 3), in his mid-20s, learning that her true name was Maureen Prescott, a 44-year-old housewife from Woodsboro, California.
He also discovered that she had started a new life in the small town after the incident in Los Angeles. She was living with her husband, Neil Prescott, and also had a 16-year-old daughter, Sidney Prescott. He eventually gained the courage to go to Maureen, revealing himself to be her son and expected her to welcome him into her life. Unfortunately, he was sorrily mistaken. According to Roman, she said that he was "Rina's child and Rina was dead" and slammed the door in his face, leaving him out in the cold to fend for himself.
Mentoring Billy Loomis
Roman then swirled into an obsessive rage and used his movie-making skills to film Maureen and her affairs with Cotton Weary and Hank Loomis, the father of Sidney's high school boyfriend at the time, Billy Loomis.
Using his footage of Maureen's affair with Hank, he explained to Billy why his mother moved out and abandoned him. This enraged Billy and, after supplying him with some deadly motivation and pointers, Billy was convinced by Roman to kill Maureen.
Roman advised on getting a weak-willed accomplice to take the fall in case things didn't go as planned and Billy used his best friend, Stu Macher. After the murder of Maureen, Roman left Woodsboro and continued on with his career as an actor and music video director.
The Woodsboro Murders
Despite not making an appearance or being mentioned, directly or indirectly, his actions led to the deaths of several people by the hands of Billy and Stu.
Hollywood
Acting career
As an actor, Roman appeared in five episodes of Dawson's Creek as Cliff Elliott, including a parody of Stab called "The Scare" alongside Joshua Jackson as Pacey Witter.
Directing Stab 3
Roman desperately wanted to direct a romantic comedy film but was "forced" to direct a cheap horror movie sequel before being allowed to do so (it is unclear, however, if Roman secretly bargained for the project or not). The horror movie "turned out" to be Stab 3: Return to Woodsboro. It was a special humiliation for him after witnessing how much media attention his half-sister Sidney had been receiving due to her survival of both the first and second Ghostface killing sprees.
He planned to orchestrate a killing spree and to frame her as being a psychopath, while he would be the "sole survivor" because he believes "everything" she had should have been his.
He makes phone call using a woman's voice to the Woodsboro Police Station for Sidney's file which Sheriff Burke refused to allow. One month later, he attempted to steal it from the police station and fails because former Woodsboro Deputy, Dewey Riley, removed it from its cabinet in time anticipating someone trying to discover Sidney's location.
Finding Sidney
Roman attempted to find Sidney by calling Cotton Weary and tried to convince him to reveal where Sidney was or else his girlfriend, Christine Hamilton, will die. Cotton refuses and because of this, he and his girlfriend were murdered. Yet this doesn't stop Roman. He did eventually find Sidney and called Sidney at her secret place to get her to come out of hiding. She, of course, refused at first.
The board of executives considered shutting down production of Stab 3 after Cotton's murder, much to Roman's dismay. Roman then called and killed Sarah Darling at his office at the studio. Roman went to Jennifer Jolie's house as Ghostface, where he killed her bodyguard, Steven Stone and teased the rest of the cast present. He caused a gas leak in the house and cuts the power to the house, sending messages to the fax machine telling the remaining characters what they have to do in order to survive. The fax machine convinced them to go outside before they are able to read the final sentence where it says, "And the killer will give mercy to..." with everybody running outside except for Tom Prinze, who goes back inside to read the final line with a lit lighter saying that the killer will give mercy to "...whoever smells the gas."
He gave a terrified look on his face as he smelled the gas and the flame from the lighter caused Jennifer's house to go up in flames in a giant explosion. Roman, in his Ghostface costume, attempted to kill Gale Weathers shortly afterwards, but failed due to Dewey shooting him several times in the chest. He escaped and survived due to his bullet-proof vest. He left another photo of Maureen behind, only with this one saying, "I killed her" on the back of it. This is enough to finally have Dewey call Sidney to come out of hiding, which is exactly what Roman wanted in the first place. However, after the phone call of her own from Roman, she had already been on her way and walked into the police station as Dewey is leaving a message on her machine.
Roman later attempted an attack on Sidney in the closed set of Stab 3: Return to Woodsboro. He did this by chasing her around the nostalgic set of her home in Woodsboro while wearing his "Dead Maureen" costume. He scared her in the same way she originally was scared but used their mother's voice to lure her into "her mother's bedroom" and with her voice made her feel depressed about things done in the past; Things she never really had time to get move on from. After reliving memories from the past (Scream 1), Roman used their mother's voice to frighten Sidney and said, "Give mommy a kiss and we'll make up." Sidney fled out of the window, running from what was supposed to be "her dead mother", whom is actually the killer. Sidney is found by Dewey, lying on the fake grass on the set, crying.
Roman's Birthday Party
All the remaining survivors from the main cast went to John Milton's mansion to celebrate Roman's thirtieth birthday. He was the first to arrive and abducted John when he came home, stuffing him into a closet in a secret home theater room. Roman called Dewey, sounding like Sidney thanks to his voice changer, and gets Gale, Jennifer, and Dewey to come to the mansion. After everyone else decided to explore the place for secret passageways, Gale and Dewey found the cloned cell phone, the voice changer, and a Ghostface outfit in a cabinet. Later, Gale found Roman, supposedly dead, in a trunk with a large knife sticking out of his stomach while searching the basement for him and Jennifer. Roman's corpse, of course, turned out to be a fake. He collected his knife and the Ghostface costume then "murdered" Angelina Tyler by stabbing her in the chest and Tyson Fox by stabbing him in the chest, tripping him over, smashing him against two glass cabinets, and throwing him from a two-story balcony. He entered the same secret passageway that Jennifer thought she was safe in. She tried to run but he ended up stabbing her in the back and stomach, killing her. Shortly after, he managed to kidnap Gale and Dewey. He used them to threaten Sidney over the phone so she would come to the mansion without anyone else coming along with her.
When Sidney arrived, he made her use a metal detector on herself in order to ensure that she was not carrying any lethal weapons with her. After the alarm shows a gun hidden by her right leg, she was forced to chuck it into the nearby swimming pool. Sidney was then attacked by Roman while attempting to release Dewey but was saved by Detective Mark Kincaid, who got hit over the head by Roman.
Unmasking Himself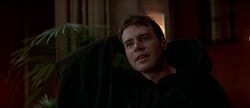 Sidney shot at Ghostface with another gun she had hidden in the same leg until there are no more bullets. She ran, as to try and save Gale and Dewey from the killer. Roman chased her into Milton's hidden theater, where he finally revealed himself. During his rant of who he was and how he was responsible for everything that's happened to her, Dewey and Gale manage to get themselves untied. Back in the theater, Roman took a gagged John Milton out of the closet and revealed to Sidney that he's the man responsible for the rape of Maureen Prescott. Ignoring Milton's offers and pleas for mercy, Roman slashes his throat despite. Roman starts to go off again, but Sidney, sick of hearing him whine, provoked him into a fight but telling him to take responsibility for simply choosing to murder for his own selfish needs. This is where the half siblings fight and each say to each other, "fuck you!"
Sidney's past encounters have left her a more formidable opponent than Roman had anticipated as she managed to evade his attacks, and even counter with powerful punches, and use her surroundings to her advantage. He did manage to get her down and start choking the life out of her until Kincaid knocked on the door to the room. At this point, Dewey had managed to kill the power in the house in an attempt to get into the secret room Roman and Sidney were in. This surprised Roman and he let go of Sidney, causing her to fall to the floor. Kincaid entered the room, holding his gun, and asked Sid where Roman is. She doesn't get the chance to reply since he gets hit over the head with a wooden chair by Roman. As Sidney find the energy to get up with Roman's knife, Roman shot Sidney in the stomach with Kincaid's gun then shot near her in the upper chest, apparently finishing the job.
Death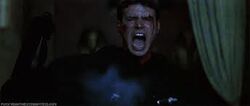 Roman heard Gale's and Dewey's yells for Sidney and tried to secure the room in order to keep to his plan of framing Sidney for the murders and breakdown of killing John Milton, He turned around to notice that Sidney's body has disappeared. While looking around for her, she leapt out from behind the nearby bar and stabbed Roman in the back twice with an ice pick. He fell to the floor, and she threw the gun away from them. Surprised, he claimed he shot her, and she reveals the bulletproof vest underneath her shirt she had gotten from the police precinct before leaving for the mansion, where she says they "think alike". They appeared to have a little brother/sister moment as Roman said it doesn't change anything since their mother is still dead and he still got to make his movie. Sidney says, "Stab three, right?" Then she stabs the ice pick into his chest, near his heart, being the third stab, she gave him.
Just as Dewey and Gale entered, Sidney reaches for his hand and Roman grabbed her hand in return and they hold hands briefly (with Sidney showing some empathy for the void he felt in his life without their). Despite his hatred of her (and their mother), they share a sibling moment as he sought out comfort from his family as he was dying (Roman possibly realizing that despite everything, they did bond through the fight and Sidney does, in fact, care for him). She lets go of his hand and started walking towards Gale and Dewey when Roman leapt onto his feet for one last scare. Dewey shot him several times before Sidney reminded him to shoot Roman in the forehead, which he does successfully. This is the end of Roman.
Legacy
His murder spree was immortalized on film with the release of Stab 3: Hollywood Horror, which is seen in the Cinema Club scene during Scream 4. The film is based on the book by Gale Weathers, Hollywood Horror (seen on Gale's desk in her home) and according to Jenny Randall, it is based on a true story. The fifth film reveals he has an accomplice, as there are always two killers in the Stab films (according to Richie Kirsch).
In 2021, Tara Carpenter watches the Scream parody Dawson's Creek episode, which for this universe, is a substituting parody of Stab. Radio Silence supported a fan's interpretation on Reddit that Scott Foley appears to portray Roman here, from a brief stint as an actor.
Committed Murders
Relationships
Quotes
As Roman
As Ghostface
Trivia
Gallery
Appearances
Character Guide