Doctor Strange in The Multiverse o Madness - The Loop
Play Sound
"Ooh, suspects! My brother would be so proud!"
—Martha to her twin children and their friends.
Martha Meeks is a minor character introduced in Wes Craven's Scream 3 (2000). She later re-appears in a cameo role in the Radio Silence reboot, Scream (2022). A resident of Woodsboro, California, she is a member of the Meeks family.
In her first Scream franchise appearance, she has a minor role as the 17-year-old younger sister of late horror film geek Randy Meeks, a dear friend of Sidney's, and a fellow Woodsboro Murders survivor (who was eventually killed at Windsor College).
She visits Sidney and former Deputy Sheriff Dewey Riley amid the later-cancelled Stab 3: Return to Woodsboro set killings to deliver a warning tape left behind by her late older brother before his untimely death at age 19. She appears close to Sidney and Dewey. Despite this, she is unseen at Sidney's book signing when Sidney returns to Woodsboro in Scream 4 (2011 film) prior to the Second Woodsboro Murders (2011), indicating she relocated.
In her second franchise appearance, she is approximately 39 years old amid the Third Woodsboro Murders, also known as the Legacy Killings, which occurred in September 2021 (the 25th anniversary of the original massacre). She is revealed to be a mother to 18-year-old fraternal twins, Mindy and Chad Meeks-Martin in the film. Her former partner is alluded to being Joel, a Scream 2 character whose news van was an accessory to her brother's murder.
Biography
Background
Martha Meeks was born in late-1982 to Mr and Mrs. Meeks (the latter is mentioned by Sidney in Scream 2). She was born four years after her older brother, Randy. As the younger Meeks sibling, she was approximately thirteen years old when the original Woodsboro killing spree occurred.
Randy had feared a third killing spree might happen because of his knowledge regarding these matters. He had given the tape to his younger sister for that possibility so that she could show it to his friends in case of such an event.
Windsor College, 1998
Amid The Windsor College Murders in approximately Spring 1998, Randy delivered a final warning tape to his baby sister before his murder. Martha who resided back in Woodsboro, California, would have only been 15 years old during his murder.
Following Randy's death, Sidney expresses grief and says she should call his mother, but Dewey reveals he covered it. This covertly reveals Dewey was the one to indirectly give the news to Martha her brother's demise.
Cancelled Stab 3: Return to Woodsboro set, approx. February 2000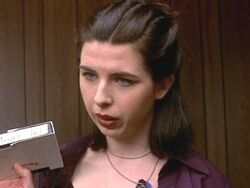 At the beginning of the year 2000 (events of Scream 3), she is 17 years old (the same age her brother was when he was attacked during the original Woodsboro Murders).
Around this timeframe, as a minor, she somehow snuck onto the cancelled Stab 3: Return to Woodsboro set at Sunrise Studios in Hollywood, California (possibly accompanied by or with help from her parents).
Waiting in a trailer, she intended to deliver a videotape Randy filmed shortly before his demise at Windsor College to Dewey Riley.
In her first Scream appearance, she unexpectedly reunites with two old family friends, both Dewey and Sidney herself, now out of hiding (who she is surprised to see). She also meets reporter Gale Weathers amid this. As the four watch inside the trailer, Randy explains the rules of a horror movie trilogy to them in case he shouldn't survive the second killing spree, something that he had feared because of having lost his virginity.
They thank her for having shown them the video and say goodbye to her. She then returns to Woodsboro, but not before telling them her wish to see them back someday there.
Relationship and Motherhood
Martha apparently developed a relationship with Joel, a man whose news van was a murder accessory to Randy's murder, 3 years later. At this time frame, she would have been twenty years old, while her partner/husband Joel was in his mid-late twenties. Martha discovered she was pregnant and gave birth four years after the events of the third film, aged twenty-one, to Chad and Mindy Meeks-Martin in approx. September/October 2003.
While the kids were growing up between approx. 2012–2015 in Woodsboro, California, Martha would have Samantha Carpenter come over and babysit the twins for her. The kids grew fond of her as well as Tara, Sam's younger sister who was around their age. It was a long-term babysitting gig, as Mindy mentions Sam allowed Chad to wear Pokémon onesies to bed for a year. However, Samantha soon abandoned her family, age 18 (approx. 2016), which is when the babysitting gig would have also ended (when her kids were thirteen).
In absentia
She is not present during the Second Woodsboro Murders, the Remake Massacre in 2011, nor is she seen at Sidney's book signing for Out of Darkness, the 2011 self-help novel. It is speculated that this is the time period where she lived away from Woodsboro, still married to her ex-husband, Joel.
2021 Woodsboro Legacy Murders
In 2021, Martha re-appears as a mother for the first time, alongside her eighteen-year-old children, the twins Chad Meeks-Martin and Mindy Meeks-Martin for the Third Woodsboro Murders. They live together with a shrine to Randy in their home.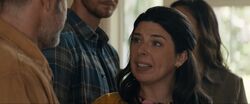 She greets Chad and Mindy's friends and serves them snacks, saying "Ooh! Suspects!" before awkwardly noticing Dewey's dishevelment, and tries and fails to be polite about it.
Martha appears to be in a state of detachment from the situation, unaware that Dewey and Gale are also separated. Chad then jumps in, and says they are "good", before she finger-points at him, to imply she is watching him like a hawk.
However, she apparently is not. It is revealed through text messages with her son's girlfriend, Liv McKenzie that Chad sneaks out. Unbeknownst to Martha, they have agreed to throw a party for Wes Hicks at none other than 261 Turner Lane, the former residence of Stu Macher, who attempted to kill her brother. Both of her children are stabbed and almost murdered. It is unknown how Martha reacts to the events of the Legacy Killings.
Quotes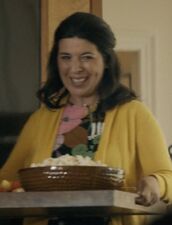 "Don't shoot! I'm only seventeen."
"We miss you in Woodsboro, guys."
"Bye Dewey, come visit us soon."
"You be careful too, Sid."
"Tell me that's his ex-girlfriend, I'll shoot myself." (Gale to Sidney about Martha, regarding Dewey).
"Dewey! Hey! You look... How's the wife?"
"Okay, kids... have fun."
Trivia
Gallery
Appearances
Character Guide