Lois and Murphy were two of the heads of Delta Lambda Zeta, a popular sorority at Windsor College, during Ghostface's second murder spree. Her best friend was Murphy. She is portrayed by Rebecca Gayheart.
Scream 2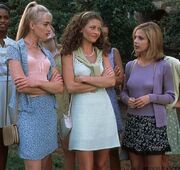 Lois is seen as one of the heads of Delta Lambda Zeta. She comes across to Sidney as a little fake.
Behind the Scenes
She and Murphy were described as "two gorgeous sorority type girls...All looks and attitude" in the script.
Quotes
"Oh good because Sid, we have our eyes on you."
"You hang in there and if there is anything we can do..." Murphy finishes the sentence for Lois
"Do you girls want a drink?" Greeting both Sidney and Hallie
"Everyone thinks that sororities are just about blow jobs."
"Harmonica style is okay, right?"
"Hey guys, something is up at Omega Beta Zeta! Police are everywhere!"
Community content is available under
CC-BY-SA
unless otherwise noted.