House of the Dragon Trailer - The Loop
Play Sound
Kate Roberts was a main character in Scream 4. She is portrayed by Mary McDonnell. She is the mother of Jill Roberts and the younger sister of Maureen Prescott, therefore making her Sidney Prescott's aunt. Her character is mostly a reference to Maureen.
Kate was the seventh character to fall victim to the fourth Ghostface killing spree. Her husband is unknown.
Scream 4
In the film, she is first seen at the bookstore, where Sidney is promoting her book.
Later, she states to Kirby Reed, her daughter´s friend, while she analyses Sidney and her trauma, that she also suffers from emotional scarring thanks to the trauma that surrounds Sidney. She also means the secrets, lies and grief that surround her with her deceased sister. She also implicitly complains that no one realises that, not even Kirby, for which Kirby apologises. Kate, presumably, was not aware of Maureen's brief career as an actress in Hollywood.
When Jill is attacked by Ghostface, Kate attempts to protect her by not allowing her to leave the house. Unfortunately for Kate, Jill disobeys her mother and seemingly escapes to Kirby's house. In a panic, Kate and Sidney decide that they need to go get her but they are attacked by Ghostface before they can leave the house.
After the disappearance of deputies Anthony Perkins and Ross Hoss, Ghostface attacks Sidney and Kate. They run from the back door after seeing a reflection of the killer, only to have Kate die when she is stabbed in the back of the neck through the mail slot of the front door. Before she dies, she asks Sidney to, "Tell Jill I'm so sorry."
However, it turns out that Jill was the one behind the Ghostface murders, thus she is directly responsible for her mother's death. According to Jill, Kate had to die so she can 'stay true to the original', referring to how she wanted to be like Sidney, whose mother was also murdered.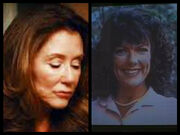 Behind the scenes
Kate's death represents her sister Maureen's so that Jill "could stay true to the original."
Kate, as a character in general, is based on her sister, Maureen. The fact she says to Sidney to tell Jill she is sorry is based on her creating a backstory.
Kate is a realtor.
Kate is the second person to be killed by a relative, namely her own daughter, Jill Roberts. Jill would later be killed by Sidney.
Few fans claim that the Ghostface that killed Kate was Charlie. However, Charlie was at the Stab-a-thon, and Jill even admitted that she was responsible, as she wanted to be like Sidney, whose mother was murdered, and Jill said that Kate had to die, so she can 'stay true to the original.'
A deleted scene on the DVD shows Kate outside Olivia's house after Jill and Sidney are attacked. It shows her being in shock over Olivia's death. She Sidney and Jill walk across the street as Kirby and Trevor look on.
Trivia
Kate uttered the words, "I'll be right back."
Character Guide