Jurassic World: Dominion Dominates Fandom Wikis - The Loop
Play Sound
Hayden Panettiere

Image of Hayden Panettiere advocating for her Ukraine relief fund, Hoplon Intl, March 2022.
Name
Hayden Panettiere
Date of Birth
August 21, 1989
Age
32
Origin
Palisades, New York, U.S.
Nationality
American
Years Active
1993–present
Occupation(s)
Actress, model, singer
Character(s)
Kirby Reed
Hayden Lesley Panettiere is an actress and activist, who portrays Kirby Reed in the Scream franchise.
She first appeared in the role in the fourth entry, Scream 4 (2011 film), and appears in a photographic still and voice cameo role in Scream 5 (2022) and will return for Scream 6 (2023 film), reprising the fan-favorite role of Kirby yet again.
Outside of Scream, she is best known for her roles as Claire Bennet on Heroes (2006—2010) and Juliette Barnes on Nashville (2012—2018), for which she received two Golden Globe nominations for Best Supporting Actress. She is also known for Bring It On: All or Nothing (2006) and Sam Giddings in the video game, Until Dawn (2015).
Scream franchise
Developments
Initially, Wes Craven intended for her to progress from a supporting star to the leading cast member of a new trilogy (films 4-6). However, these plans did not come into fruition due to the fourth film's studio interference, lukewarm box office and later, Craven's own 2015 death.
After the franchise was revived after Spyglass Media Group bought the rights in November 2019, her presence in the fifth film drew widespread speculation. She was asked by the new creative director team, Radio Silence to return for a voice cameo of a partygoer at Amber's house in Scream 5 (2022 film).
Initially, they planned for her role to be larger, but did not want to shoe-horn her into the film to pay better respect for the character. An Easter egg also resolved the long-held fan theory of Kirby's survival. Coincidentally, her character's survival came ten years after Craven's own tweet, doubting her death, from January 14, 2012 to January 14, 2022.
Early life
Panettiere was born in and partly raised in Palisades, New York, the daughter of Lesley R. Vogel, a former soap opera actress, and Alan L. "Skip" Panettiere, a fire department lieutenant. Panettiere is of Italian descent, which her surname meaning "baker" in Italian. She has one younger brother and actor, Jansen Panettiere.
Although Panettiere attended South Orangetown Middle School in New York, she was educated at home from the 9th grade through high. For now, Panettiere is postponing higher education in favor of an acting career.
Other Career Notes
Acting
Television
Panettiere first appeared in commercials at 11 months, beginning with an advertisement for Playskool. She landed a role as Sarah Roberts on the ABC soap opera One Life to Live (1994–1997), and she followed that up by playing the part of Elizabeth "Lizzie" Spaulding on the CBS soap opera Guiding Light (1997–2000). While on Guiding Light, Panettiere's character Lizzie battled leukemia. For drawing the attention of daytime viewers to the disease, and for improving national awareness, the Leukaemia & Lymphoma Society gave her its Special Recognition Award.
For her performance in Lifetime Television's 1999 TV movie If You Believe, she was nominated for the Young Artist Award for Young Actress Age Ten or Under in the category of Best Performance in a TV Movie or Pilot. Panettiere appeared on Fox's Ally McBeal as the title character's daughter, had a recurring guest role on Malcolm in the Middle and guest starred in Law & Order: Special Victims Unit.
Panettiere became most prominent as Claire Bennet in the NBC series Heroes, which was created by Tim Kring, as a high school cheerleader with regenerative healing powers. Thanks to her role on Heroes, she became a regular on the science fiction convention circuit, invited to attend conventions around the world in 2007, including Gen Con, New York Comic-Con, and Fan Expo Canada. Panettiere has complained that her acting options are sometimes limited because "people look at [her] as either the 'popular cheerleader' type or just 'the blonde.'"
In early 2007, Panettiere appeared on the MTV show, Punk'd. The appearance was engineered by her mother and involved a male "fan" discussing her work with her, instigating a jealous reaction from the man's spouse.
Films
Panettiere has appeared in over a dozen full-length feature films.
In 1998, she provided the voice for Dot in A Bug's Life. She played the role of Coach Yoast's daughter, Sheryl, in the 2000 Disney film Remember the Titans. She starred in a 2005 film, Racing Stripes where she plays a teenage girl with a pet Zebra named Stripes. She also starred in Bring It On: All or Nothing as a cheerleader and had a supporting role as Adelaide Bourbon in the recently released independent film Shanghai Kiss. In 2004, she appeared in the Disney Channel film Tiger Cruise, and in Raising Helen as Kate Hudson's adolescent niece. In 2005, she was the title character's rival in a skating contest in Ice Princess.
In June 2007, she signed with the William Morris Agency, after previously being represented by United Talent Agency. Forbes estimated that she earned $2 million in 2007.
In 2008, Panettiere appeared in the drama Fireflies in the Garden as a younger version of Emily Watson's character, Jane Lawrence. In September 2008, she appeared in a satirical video, a mock-PSA (public service announcement) on funnyordie.com entitled "Hayden Panettiere PSA: Your Vote, Your Choice." Again, in October, Panettiere appeared in another satirical PSA video on funnyordie.com entitled "Vote for McCain: He's just like George Bush, except older and with a worse temper."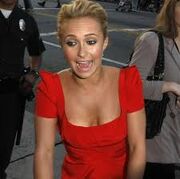 In July 2009, Panettiere starred in the teen comedy I Love You, Beth Cooper. In September 2010, Panettiere was signed to star as Amanda Knox in the controversial Amanda Knox: Murder on Trial in Italy. Panettiere also provided the voice of Kate, along side Justin Long in 2010's Alpha and Omega.
In 2011, she replaced Anne Hathaway as the voice of Red for the animated sequel Hoodwinked Too! Hood vs. Evil. In April 2011, Panettiere appeared in the sequel of the Scream franchise, Scream 4. She portrayed Kirby Reed, alongside Emma Roberts and Rory Culkin. Following her role, she starred as the lead on Nashville (2012—2018) for 6 seasons and 124 episodes.
She appeared in a photo in Scream 5 (2022 film), is the voice of a partygoer and is also credited as "Special Thanks". In May 2022, it was announced she would return for the tentatively titled Scream 6 (2023), twelve years after her initial casting was announced.
Trivia
Wes Craven on Hayden's performance:

"Hayden is a real powerhouse. Tremendous technical ability. Able to bring enormous emotionalities to something very quickly. Smart. Just so full of life and laughter and fun. And, you know, played this really difficult role as Emma's best friend. And again, brought the picture up so much in her scenes. [...] she just re-affirmed that she is just a really great actress [...] packed into a very small package—but wow, what a powerhouse."

She has a Ukrainian daughter, Kaya Evdokia Klitschko (born December 9, 2014), who speaks Russian as a first language. Panettiere once stated she only speaks "Baby Russian".
She is founder of a relief fund for Ukraine amid the Ukraine-Russia conflict. The organization is called Hoplon Intl. Their website is https://www.hoplonintl.org.
She is only 5'1.
Her ex-partner and father to her daughter is former heavyweight professional boxer, Wladimir Klitschko. They dated on-off from 2009 to 2018.
Her last name is pronounced "Pan-Hey-Tee-Air" and is the Italian translation of "Baker". Her parents are both of half Italian descent (her father's father and her mother's mother were both the children of Italian immigrants). Her other roots include German and English.
Born at 9:20 AM.
Gallery